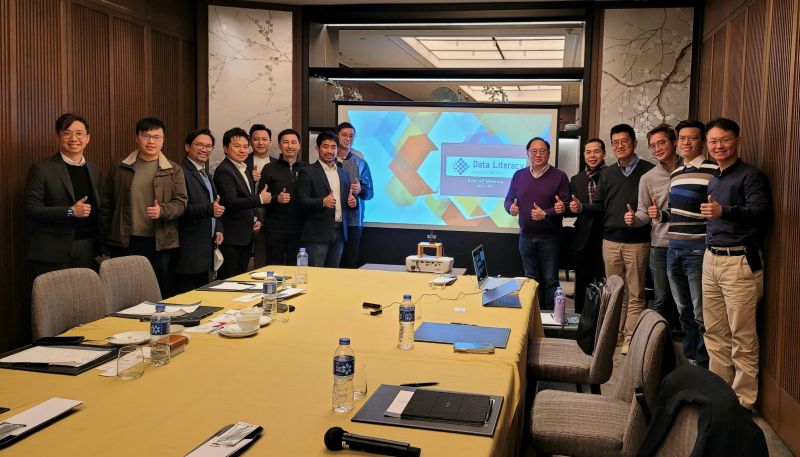 In the capacity of Founding Chairman, I am so grateful to kickoff our 1st ever Data Literacy Association or "DaLa" meeting today together with a group of elite data leaders in town especially in the Christmas time. Our mission is to empower everyone to speak data as their second business language.
Apart from Chinese and English, everyone needs to speak data in the digital economy. It is not the privilege of data scientists. All leaders, executives, professionals and employees at all levels need to have good command in data to stay relevant in today's digital world. Democratizing data literacy to majority of our workforce is critical for our success. That is the best way to monetize our data asset instead of only relying on data teams. We aim to nurture data culture and data mindset for small and large organizations, as well as individuals and students.
Our Key Objectives
1. Share best practices of data literacy empowerment in organizations across industries and economies
2. Nurture data mindset and culture in organizations and individuals
3. Empower and upskill everyone to use data effectively in their everyday's work and life
4. Advise industry associations, universities and government bodies to strengthen the data literacy of their respective stakeholders
5. Nurture students and startups on data literacy so that they can become the data culture carriers when they work for organizations or become entrepreneurs in the future
More about our Data Literacy Association can be found here www.DaLaHK.org. If you would like to join our association, please email us [email protected] or simply contact me or anyone of our founding members.
Really thankful to our founding members to join our kickoff meeting f2f and online today. They are all experienced data leaders in enterprises, consulting firms, leading AI tech giants and startups. We discussed our plan 2023 and onwards. All of us are very engaging and passionate about empowering Hong Kong to be a data leader in the region.
Thanks to all of you participating today's kickoff meeting and shared valuable inputs. I look forward to collaborating with you all in 2023 and the years ahead.
Andrew Chan, Tim Chan, MBA, Alex Hung, Nixon Chau, Calvin Cheng, CFA, Michael Wong, Stephen L., Ravel Lai, Patrick Khong, Jade Tin Hei Lee, Herman Cheng, Victor Ng, Andy Kwok, Jacob Wai, FRM, FFA FIPA, FCMA, CSDP, MHKCS, LLM, MBA, Chris Au Young, Alvin Cheung, Michael Yung, Alex Wong, Will Fu, Ivan Ng and more.
#DaLa #DataLiteracy #AI #BigData #DataAsset
#DataCulture #DataMindset
#DataMonetization #DataDemocratization
Dr. Toa Charm
Founding Chairman
Data Literacy Association