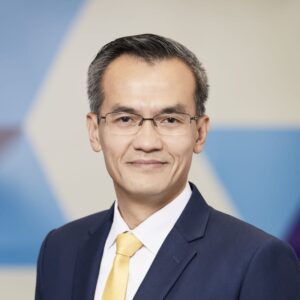 Mr. Hugh Chow
Executive Director, The ESG Consortium
Partner, Radiant Tech Ventures
Mr Hugh Chow has 30 years of global executive experience in innovation and technology, investment, board governance, R&D and engineering management.
Mr Chow is currently the Executive Director of The ESG Consortium, a Partner of Radiant Tech Ventures, a Special Advisor of Kumshing Group, Chairman of MICAS Group, Chairman of The Apple Tree Preschool and Learning Centres, Chairman of Hong Kong Technology Advancement Group, Advisory Board Chair of Jarvis Consulting Group, Vice-Chair of ixFintech Index Advisory Committee, and a Board Member of the Association of Chinese Canadian Entrepreneurs. He also serves on the Management Committee of the HKD$1B Smart Traffic Fund, the Traffic Advisory Committee, and on the Enterprise Support Scheme Assessment Panel for the Hong Kong Government. An Advisor of the Our Hong Kong Foundation, Mr Chow is also a Honorary Advisor of the Hong Kong Internet Of Things Alliance and the GuangdongHong Kong-Macao Bay Area Economic and Trade Association.
In 2018, Mr Chow was recruited globally by the Hong Kong Government and appointed CEO of Hong Kong Applied Science and Technology Research Institute, a world leading government funded applied research institute with 600 full-time researchers.
At ASTRI, Mr Chow was designated by the Ministry of Science and Technology of People Republic of China as the Director of the Chinese National Engineering Research Centre for Application Specific Integrated Circuits in Hong Kong. He was also appointed as the CoDirector of the Greater Bay Area Committee of the China 3rd Generation Semiconductor Technology Innovation Strategic Alliance, and the Honorary Chairman of the Hong Kong Electronics and Technologies Association. Other public services by Mr Chow included the Innovation and Communications Technology Advisory Committee of the Hong Kong Trade Development Council; the Scholarship Administration Committee of the Hong Kong Federation of Youth Groups; the Re-industrialisation Funding Scheme Vetting Committee and the Expert Panel on the Designation of Designated Local Research Institutions.
As Guest of Honour, Mr Chow delivered the Opening Speech at the 88th Congregation for the Faculty of Engineering of the Chinese University of Hong Kong in 2020. Mr Chow also serves on the Departmental Advisory Committee of Electrical and Electronic Engineering of University of Hong Kong; the Faculty of Engineering Advisory Board of the Chinese University of Hong Kong; and the Advisory Board of the Hong Kong University Engineering Alumni Association.